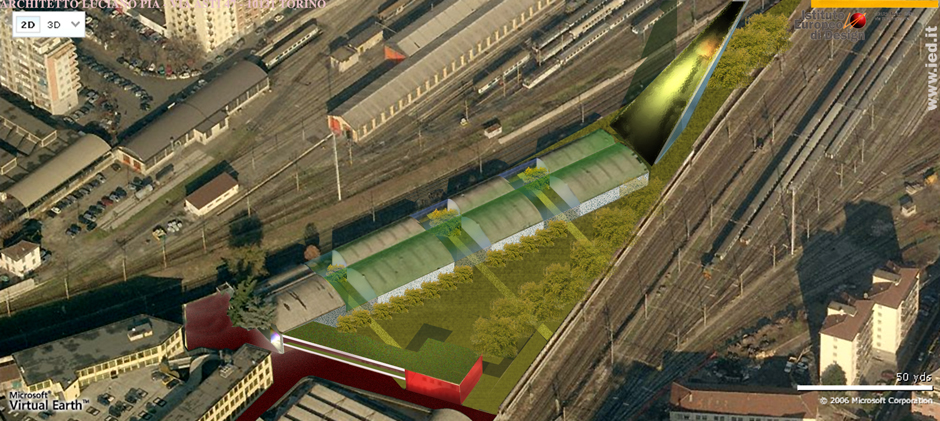 PLACE: Italy, Turin, Corso Dante
TYPOLOGY: urban renovation and new buildings
FUNCTION: university campus, service sector, student residence
SURFACES: 12.000 square metres
PROJECT START: 2007
COMMETTEE: IED
Installed in a former industrial area near Porta Nuova railway station, the new IED center inTurin, reuses much of the industrial buildings of the postwar period, characterized by long wings with a vaulted ceiling. Along with the educational center itself, the Campus includes services related to design, service sector, a public library and a student residence.
The project exploits the peculiarity of a strongly triangular lot bordered on both sides by the railway. The library is in a new building with two superposed levels, highly transparent to the inner garden as to evoke thin paper sheets in the wind. The business enterprises are in the first part of the existing wings which are marked by transversal openings, squares of communication and interaction, around which destinations and "routes" are organized. The partitions are put up as to reveal the building framework. Horizontal paths on the ground floor and the first floor, through long aisles, to reach the classrooms, the cafeteria, the laboratories etc. and the tip of the inner space of the lot where the residence is located. A triangular prism powerfully sprouts from the ground in the direction of the city centre. Inside there are rooms on ten floors and a charming friendly space at +35 meters high. Green areas planted with tall trees and evergreens draw the outer and inner space. Green roofs and water improve the livability and sustainability of the project, while the use of renewable energies, such as photovoltaic, solar panels, geothermal energy and rainwater stockage grant a low consumption of energy.